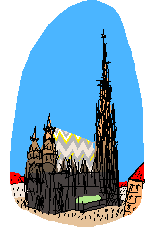 Sight­seeing bus tours
and city walks in Vienna
The best way to get to know Vienna, the city of music, is a sight­seeing tour. Who doesn't know the waltz king Johann Strauß, whose golden statue in the City Park is probably the most photographed monument in Vienna? And who doesn't want to visit a typical Viennese Café after an informative sight­seeing walk and enjoy a "Wiener Melange" ("long espresso" with milk) while reviewing all impressions gained in Vienna, and then go on a little shopping expedition along the Kärntner Straße?
The "Wien bewegt" Vienna Walk - Historic City Center ©

Let's go for a stroll along the elegant Kärntner Straße and the Graben, admire the "Anker" Clock at Hoher Markt, discover the "Fenster­gucker" in St. Stephen's Cathedral and follow the imperial vestiges in the Imperial Palace. On this city walk you get to know the most important sights in the Historical City of Vienna in a comfortable way and discover hidden courtyards and lanes far away from the mainstream of tourists.
I do not use audio guides or other technical aids. A direct contact with your group is particularly important to me.

Recommendable restaurants in the Historical City:
Gulasch­museum - www.gulaschmuseum.at
Restaurant Bierhof "Hopferl" - www.bierhof.at
Self service restaurant Rosen­berger - www.rosenberger.cc
Zwölf Apostel­keller (historical Twelve Apostle's Cellar) - www.zwoelf-apostelkeller.at
Restaurant Ofenloch - www.restaurant-ofenloch.at



The "Wien ringsherum" Vienna Sight-Seeing Tour ©

We walk round the Ring Avenue and enjoy the impressive buildings from the time of emperor Franz Josepf I., such as the State Opera House, the Court Theater, the Imperial Palace, the Neo-Gothic City Hall or the Votive Church. During this 3 hours-excursion you also get to know the Charles' Church, the Secession building, the Naschmarkt, the Hundert­wasser­haus and the Belvedere Palace (Prince Eugene's summer residence), and there is enough time for taking photos. On request we make a short side trip to Schön­brunn Palace as well.
If You have no bus available, I may arrange a low priced rental bus.

Linktips:
Modern Viennese cuisine: "Glacis Beisl" at the "Museums­quartier" - www.glacisbeisl.at
Beer bar Bermuda-Bräu in Viennas partyzone "Bermuda-Dreieck" - www.bermuda-braeu.at
Restaurant & Catering "der Ringsmuth" - www.der-ringsmuth.at



The "Wien hoch hinaus" Tour ©

Perhaps you are very sporty and want to climb up the 776 steps to the Danube Tower and then risk jumping down as a Bungee Jumper? Or maybe you prefer to take the elevator which takes you up to the terrace (150 m) in only 35 seconds. From there it is only a few meters to the café or a bit higher to the revolving restaurant.
Of course you can have a leisurely round with the Giant Ferries Wheel to watch the bustling life in the Prater and enjoy the marvellous view over the city from high above. Or your bus driver takes you up to the Kahlenberg (Vienna's own "mountain", 484 m high) along the panoramic Höhenstrasse (High Road). If the weather is good, there is a magnificent view from the terrace. You can  see not only the hills of the Vienna Woods and the vineyards of Grinzing and Nussdorf, but also the Danube valley and the Little Carpathians and the Schneeberg region.
In any case you will enjoy this tour.
Advance booking necessary! Price for guide and entrance fees on request.

Linktips:
Donauturm - www.donauturm.at
Viennese Prater (the oldest amusement park in the world) - www.wienerriesenrad.com



The "Wien by night" Vienna Sight-Seeing Tour ©

Enjoy the sea of lights during a night tour along Vienna's lovely illuminated Ring Avenue with its magnificent historical buildings. But don't leave Vienna without having visited a traditional "Heuriger" (wine tavern) in Grinzing, Neustift or Nussdorf. It is a memorable experience to listen to the "Schrammel" quartet playing sentimental Viennese songs and enjoy a glass of "Veltliner" (dry white wine).
Advance booking necessary! Price for evening program incl. "Heuriger" (music, 1/4 liter of wine and cold food) on request.

Linktip:
Heuriger und Buschen­schank Wolff in Neustift am Walde - www.wienerheuriger.at

Linktip for your accommodation:
Personal holiday homes in Vienna - www.cofman.de